Butterfly Valve Selection
The selection of a butterfly valve extends beyond design, influenced by various operational parameters. Here's a breakdown of pivotal considerations ensuring the efficiency of your chosen valve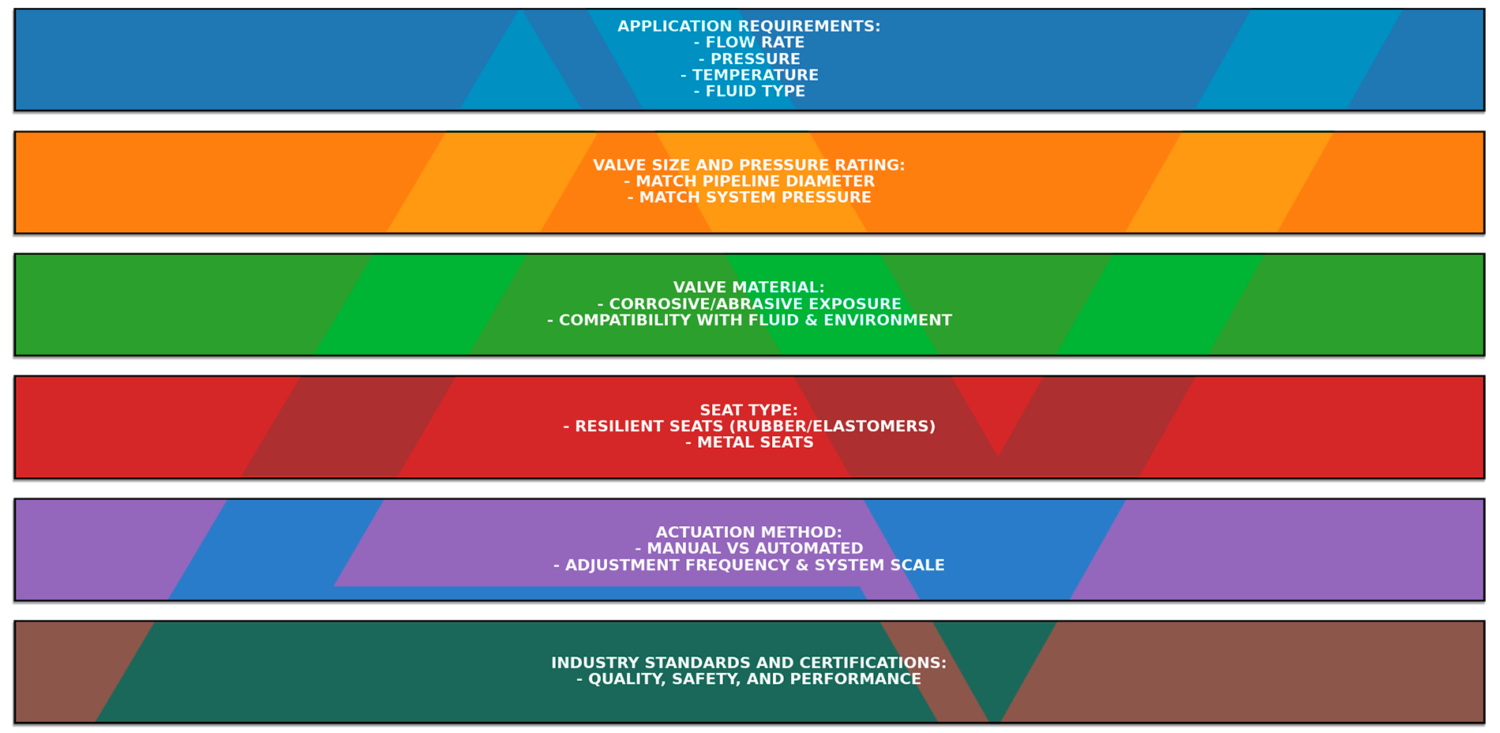 APPLICATION REQUIREMENTS :
Dive deep into flow rate, pressure, temperature, and fluid type. Understanding these parameters aids in matching the most apt valve design.
VALVE SIZE AND PRESSURE RATING :
Opt for a valve size resonating with your pipeline's diameter, and ensure its pressure rating aligns with system demands.
VALVE MATERIAL :
Factor in potential exposure to corrosive or abrasive elements. Material compatibility with fluid and environmental conditions prolongs valve longevity.
SEAT TYPE :
Evaluate the valve's seat material. While resilient seats (rubber/elastomers) assure commendable sealing, metal seats excel in durability, especially under abrasive and high-temperature situations.
ACTUATION METHOD :
Choose between manual or automated valves based on adjustment frequency and system scale. While manual ones offer cost-effectiveness for sporadic adjustments, automated variants shine in extensive systems demanding remote control.
INDUSTRY STANDARDS AND CERTIFICATIONS :
Ensure the chosen butterfly valve abides by pertinent industry standards and certifications, guaranteeing optimal quality, safety, and performance.
CONCLUSION :
The appropriate butterfly valve selection lays the foundation for streamlined fluid control. By meticulously evaluating the aforementioned factors and aligning them with industry standards, you can zero in on a butterfly valve tailored for your operational requisites.
https://convalve.eu/wp-content/uploads/2023/10/Convalve-Blog.png
1000
1000
Blackcode
https://convalve.eu/wp-content/uploads/2023/10/CONVALVE-LOGO.svg
Blackcode
2023-10-10 10:01:43
2023-10-10 10:01:43
Butterfly Valve Selection